The Prophecy - The Child Is Linked To The Title Everlasting Father

Old Testament Prophecy

New Testament Fulfillment

For a child will be born to us, a son will be given to us; And the government will rest on His shoulders; And His name will be called Wonderful Counselor, Mighty God,

Everlasting Father,

Prince of Peace. There will be no end to the increase of His government or of peace, On the throne of David and over his kingdom, To establish it and to uphold it with justice and righteousness From then on and forevermore. The zeal of the Lord of hosts will accomplish this.(Isaiah 9:6-7)

The Father and the Son both share the same divine nature. That's why Jesus could say

...Anyone who has seen me
has seen the Father...
John 14:9


Description Of Prophecy:
Another one of the names of the "Child Being Born" in the Isaiah 9:6 prophecy is "Everlasting Father." How can Jesus be both a Son and a Father at the same time? We are already aware of Jesus as the Son (Unto Us A Son Is Given) so what does it mean for Jesus to also be our Everlasting Father?
Jesus connected Himself to the Father by saying things like "I and the Father are one" (John 10:30). That's why He was given the title of Mighty God in this prophecy also.
Literally the Father of eternity. The name means that the Messiah is eternal and paternal in relation to His people.(1)
---
Fulfillment: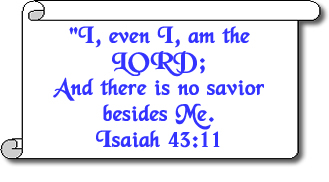 Understanding that the Father, Son and Holy Spirit are one Compound Unity helps to understand how the Son, our Saviour can also be considered the Father. Our Messiah is certainly everlasting. The Book of John teaches us that Jesus was part of the creation process. Thousands of years later He came to earth so He could be our everlasting sacrifice. He lives today as our High Priest in the heavenly throne. He is given credit as the Father of all of His children, those who put their faith in Christ.
---
Comments:
The Father Child Relationship:
With the Messiah having the divine title of "Everlasting Father" we (those who have put our saving faith in Him) become His children. He will be a Father to His people eternally.
How great is the love the Father has lavished on us, that we should be called children of God! And that is what we are! The reason the world does not know us is that it did not know him. (1 John 3:1)
The Everlasting Father will never leave us nor forsake us (Joshua 1:5; Hebrews:13:5). Jesus makes that promises in Matthew 28:20 when He says "And surely I am with you always, to the very end of the age."
---
Miscellaneous:
Articles related to the Isaiah 9:6 prophecy include:
Articles related to our Messiah's birth include:
Some people connect the "Everlasting Father" part of this prophecy with Psalm 72 which says "May his name endure forever; may it continue as long as the sun. All nations will be blessed through him, and they will call him blessed" (Psalm 72:17).
God becomes a Father to the fatherless (Psalm 68:5-6).
This Father will have compassion towards His children (Psalm 103:13).
Our Fathers love includes discipline (Proverbs 3:12).
God's paternity can be found in the beginning of what's known as The Lord's Prayer. (Our Father who art in Heaven) From a sense of creation God is everyone's Father. When viewed through a spiritual lens, He is the Father only to those who have faith in Jesus.
John 1:12 Yet to all who received him, to those who believed in his name, he gave the right to become children of God (John 1:12).
---
Acknowledgments:
1). The Prophet Isaiah by Victor Buksbazen:
The Amazing Prophecy of Names by RBC Ministries:

About Us
-
Contact Us
-
Support Us
- JewishRoots.Net - All Rights Reserved.