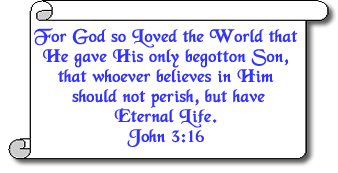 This is the message of the Bible. It is a message about God's love. It is through this love that God has provided for us, the sinner, a way...the only way...to heaven.
Talking about our Messiah, Isaiah fore-told about it this way.
"But He was wounded for our transgressions, He was crushed for our iniquities; the punishment that brought us peace was upon Him, and by His wounds we are healed" (Isaiah53).
---
Miscellaneous:
It is because of God's love and through this very love that we can enter into a relationship with God. If you do not know about this love then please pray for God to reveal to you the truth about this John 3:16 passage. He is willing and more than able to meet you where you are at in life right now.
What is the Meaning of John 3:16? by Y-Jesus
---
Acknowledgments:
The Gospel of John, Chapter 3 verse 16.

About Us
-
Contact Us
-
Support Us
- JewishRoots.Net - All Rights Reserved.